Razorback Basketball: Hogs prepare for in-state exhibition
The Razorback Basketball team will play their first exhibition on Sunday
First-year coach Eric Musselman and the Arkansas Razorbacks men's basketball team will play their first game against any opponent this Sunday at Bud Walton Arena in Fayetteville. The Razorbacks will take on the University of Arkansas Little Rick Trojans in an exhibition match-up between the two University of Arkansas programs.
Nolan Richardson Court
Also on Sunday, Arkansas will unveil Nolan Richardson Court. Richardson coached the Razorbacks to 13 NCAA Tournament appearances, which led to six Sweet 16's, four Elite Eights, three Final Fours, one national runner-up finish, and of course the 1994 NCAA Championship. In Richardson's 17 seasons as Arkansas head coach, the legend earned a record of 389-169.
In a press conference on Thursday, Coach Mussulman commented on the events happening Sunday saying, "I think to have this game, the first time our team is going to take the floor, the first time our coaching staff, it magnifies the unveiling of Coach Richardson's court. I think it's going to be a great game for the entire state. Really, really a special day."
Musselman knows Trojans
The Razorback coach also noted his knowing of former Arkansas player Darrell Walker, who is now the coach of the Arkansas-Little Rick Trojans. While Musselman's Hogs are not familiar with the Trojans, the coach himself took on UALR last season and defeated the Trojans 87-59 when he was the coach of the Nevada Wolf Pack.
Musselman stated, "I know their 4-man is a really good rebounder, really good reaction. They have a guard that can really shoot the basketball. They have another big that can shoot the ball. So I'm pretty familiar with about four or five of their guys."
The head coach commented on his squad not being familiar with the Trojans saying, "We'll have Thursday, Friday, Saturday and we'll even do a little bit of a shoot-around on Sunday. We know they're a good team that causes a lot of turnovers, so that'll be something we need to do a good job of taking care of the basketball. On the flip side, last year they turned the ball over a little bit, so we've got to try to be able to create some offense through our defense as well."
Starting Lineup
Musselman said he has decided on the starting-five for Sunday, but did not want to reveal the lineup.
"We know who it is (the starters), we're just not saying it right now because in the past I've done that then someone tweaks an ankle so there's no reason to. I have talked to a couple of guys and told them, 'Hey, you're going to come off the bench, Here's why.' But it's not etched in stone, meaning going forward."
Vanover to sit out
Coach Musselman covered the topic of center Connor Vanover who still hasn't received eligibility by the NCAA as a transfer. Vanover scored 15 points in the Red-White Game, making 5-of-10 from the floor and 3-of-6 from beyond the arch. From the free-throw line, the 7-footer made two of three attempts. Vanover also tallied seven rebounds and two steals. Another Razorback transfer, JD Notae, will also sit out on Sunday.
"You know, really you don't play guys that are sit-out guys anywhere across the board in an exhibition game," Musselman said. " So those guys that aren't say cleared by the NCAA, they will not play."
Adrio Bailey is also questionable for Sunday since he is dealing with an injury. "Adrio's dealing with kind of back spasms," said Musselman. "He really hasn't done much the last two practices. We took off Monday and obviously yesterday because of SEC media day. Hopeful that his spasms are doing better. But he's kind of been limited with dunking and things like that. We've tried to keep him off a lot of the full court stuff. But other than that, we're fully healthy.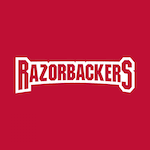 Tipoff: 3:00 p.m.
Saturday's exhibition is scheduled to tip at 3 o'clock on Sunday afternoon at Bud Waldron Arena, while doors will open at 1:30 p.m. CT.
Live-Stream & Radio
The game will be available to live-stream on SEC Network Plus as well as the ESPN app, and the live radio broadcast will be available via the Razorbacks Sports Network.