Coordinators Get Vocal At First Arkansas Scrimmage
Arkansas Razorbacks football had their first scrimmage of the year and it looks like both coordinators were having fun in this video.
The Arkansas Razorbacks football team had their first scrimmage of the year. During the practice, head coordinators Dan Enos and Paul Rhoads were having fun all while pushing their guys to take it to the next level.
A tweet sent out by @VidHogs showed a bit of behind the scenes with the two coaches. Defensive coordinator Rhoads and offensive coordinator Enos go from jokes to intense but both of them look to like they would be fun to play for.
https://twitter.com/VidHogs/status/851540534074241024
The biggest takeaway from the video to me has nothing to do with football. In the beginning, Enos is talking to his players and telling them about his days in college.
During this conversation, the offensive coordinator told his guys about being a DJ during his collegiate career. Enos' stage name was none other than "DJ Danny E".
Yeah, he was probably joking but if this were true and someone has a video of Enos working turntables, do the right thing. Send it to us.
While DJ Danny E was joking, he was also coaching. The scrimmage was all offense as they apparently shredded the defense in their first head to head test.
Rhoads was definitely the more serious of the two during the practice which isn't very shocking to those who saw him at Iowa State. The defensive coordinator is known to be an intense guy while still being a "players coach".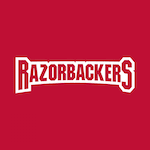 Apply to Razorbackers.
Start your application process by filling out the fields below
Head coach Bret Bielema and his staff are working on getting the team ready for the yearly Red and White game. The Hog scrimmage will be later this month on the 29th. Woo pig.