A Fan's Response To Arkansas' Dusty Hannah's Apology
After a heartbreaking loss in the NCAA Tournament, Arkansas Razorback's Dusty Hannahs tweeted an apology just as heartbreaking.
Dusty Hannahs and his Arkansas teammates had given a really good North Carolina team everything they could handle but it just wasn't quite enough. For fans, it was crushing to be so close and fall but for the players, it was clearly even more painful.
Senior Dusty Hannahs took to twitter after the loss to give Arkansas fans a message of remorse. His tweet was short and direct in its contents but spoke volumes to his character.
It started with two simple words that really hit me when I read them. "I'm sorry." The loss had been bad enough but to see Hannahs say that made me think a lot about this game and team. In particular, I thought about Hannahs' not only as a player but as a person off the court.
A Meaningless Response From A Fan
I don't know Dusty as a person. I couldn't tell you any of his likes or dislikes or a single thing you don't already know about his personal life. Even so, his interviews and actions on the court speak volumes to who he is.
Dusty Hannahs is just like you and I. He is a kid that grew up in a state disrespected and marginalized by so many and just like us, he loves it. Like most of us who grew up in Arkansas and played any kind of sport, Hannahs dreamed of being a Razorback one day.
His journey may have taken him to other places but his dream would eventually become a reality. Dusty came back home to be a Razorback with the kind of pride only someone who grew up here could possibly understand.
During his time here, he has made jaw-dropping three-pointers and delivered the kind of spirit long missing from Arkansas basketball. His contribution to the program's "us against the world" mentality is what made many love him.
It was obvious that he is just fine with being counted out and dismissed because he knew when he walked off the court, he would leave in his wake a barrage of buckets you'd have to see to believe along with any doubt that anyone ever had. In his two years, Hannahs made himself an icon in the state he loves so much.
His ability to shoot was amazing but personally, something else stands out. To me, Hannahs ferocity in the final minutes of a game when they were down was what I always loved. It was a display of calculated determination and anger that was just pure art.
If You Give Everything To Those You Love, There's No Room For Apologies.
After the loss to the Tar Heels, a lot of my views on Mike Anderson and the Razorback basketball program changed. After years of irrelevance, Arkansas basketball has finally returned.
Dusty Hannahs' role in what could be the foundation of a golden age is huge. His body of work is the perfect representation of what it means to have heart and play with the pride that comes from being a Razorback.
Hannahs gave the state he loved so much everything that he had and because of that, there's no more room for an apology. Now, future players from right here in Arkansas will build upon what Dusty gave us and create something special.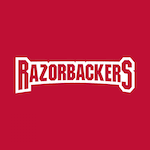 In his final performance, he may have lost the game but what Arkansas fans found was a renewed sense of hope and pride in their team. It's only fitting that a kid from Arkansas who dreamed of being a Razorback would give us that. For everything he did and all that he gave to us, I say thank you. Woo pig.