Arkansas Track and Field Clenches Another SEC Championship
The Arkansas Razorbacks track teams get their fifth straight SEC title at the SEC Indoor Championship.
In case you are new to the state let me tell you, Arkansas Razorback track and field is on a whole other level. It's perfectly normal to forget about how many titles Arkansas has in track because there's just so many.
For the fifth straight year, both the Arkansas men's and women's teams crushed the competition in the SEC. As a duo, the teams are undefeated in the SEC since the 2015 SEC Cross Country Championships.
Arkansas is just that good at track and field. The Razorbacks have won 40 NCAA Championships since 1984. Along with those, Arkansas has 37 SWC Championships 38 SEC Titles. I'd say that's a dynasty.
The Razorbacks dominated with a score of 98 for the men and a monstrous 106.5 for the women's team. As the Hogs took first in both, the rest of the SEC was in a fight to find the second place, as usual.
Under the men's team was Alabama with 93, Ole Miss had 76 as did Florida and Texas A&M. Georgia took 6th place with 67, Kentucky was 7th with 44, LSU had 42, Auburn had 40, and Tennessee with 23.5. The final three performed terribly with South Carolina at 11 with 17.5 points, Mississippi State at 12 with 5 points and Missouri at 13 with 3 whole points. Vanderbilt didn't even make the men's scoring list.
As the Arkansas women's team crushed the competitions, LSU placed second with 94 points, Kentucky at third with 71 and Georgia at fourth with 64. The drop from Arkansas to even LSU at second is pretty awesome.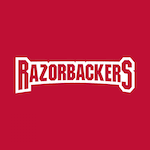 Arkansas just dominates the competition. Congratulations to both teams and here's to celebrating yet another Track and Field title at the collegiate track capital of the world. Woo pig!