Arkansas Sweeps the Aggies and Gets Fourth Straight SEC Win
Arkansas pulls off the sweep against Texas A&M and gets their fourth straight win in the SEC.
The Arkansas Razorbacks basketball team pulled off a hard fought win against Texas A&M. The Hogs managed to sweep the Aggies in their second meeting of the season, 86-77.
The Hogs were led by Jaylen Barford and his ferocious playing against A&M. Barford's 16 points were the most of any player for Arkansas tonight. Jaylen wasn't alone, however, in double digit scoring.
Kingsley had a double-double with 10 and 10. Meanwhile, Watkins had 13, Hannahs had 11 and Macon led points from the bench with 12. Overall the Razorbacks were sharing the ball well and had plenty of guys in the mix offensively.
The only gripe from tonight was the lack of an ability to finish. Arkansas would have won by 20+ had they had more guys finish with the bucket on fast breaks and drives to the rim, but I'll take the 9 point victory over a loss any day.
Arkansas did more than just win 21 for the season with this victory over A&M. The Razorbacks moved into 3rd in the SEC which is a huge deal if they can hold on to it heading into the SEC Tournament.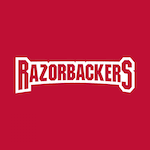 The Razorbacks are on the march for March Madness and are so close they can taste it. Of course not only is the big dance a little ways away but so is the SEC Tournament. In order to get there in style, Arkansas has to keep taking care of business in the regular season, which has three games left. Next up on that list is Auburn. Woo pig.