The fervor over one of the top running backs in the 2013 college football recruiting class will come to a dramatic end on Monday night when Alex Collins, South Plantation High School, Fort Lauderdale, FL, announces his decision live on Fox Sports at 10 p.m. ET from Atlanta.
Collins, 5'11", 210 pounds, reportedly will decide between the University of Arkansas and University of Miami with Wisconsin, Texas, Florida State, and Florida having an outside shot of landing his services in the upcoming seasons.
Much like The Clash mused in their 1982 hit song "Should I Stay or Should I Go," Collins will have to decide between staying close to home but play under possible NCAA violations or head to Arkansas and play for a top SEC West program.
Arkansas head coach Bret Bielema, running backs coach Joel Thomas, and defensive line coach Charlie Partridge have made up for a lot of lost ground with Collins with in-home and on-campus visits but is the proximity from home too much for the Razorback staff to overcome? After all Collins was a one-time verbal commitment for the Hurricanes 2013 class with glowing approval from his mom per reports. Collins only de-committed after pondering the implications of possible NCAA sanctions on the Hurricane program.
Both programs could utilize a player with his ability as both programs look to reestablish themselves on the national scene after up and down seasons over the past decade. Collins rushed for 1,786 yards with 28 touchdowns during his junior campaign in 2011 and rushed for over 1,200 yards with 14 touchdowns during his senior season playing in Florida's highest state classification 8-A.
Arkansas head coach Bret Bielema sent an indirect message to Collins on Wednesday while in Dallas via Twitter; Collins' handle on Twitter is @Budda03:
Found a Budda in Dallas. Lucky charms everywhere we go. #wps#gohogsgo @coachjoelt
The picture Bielema posted: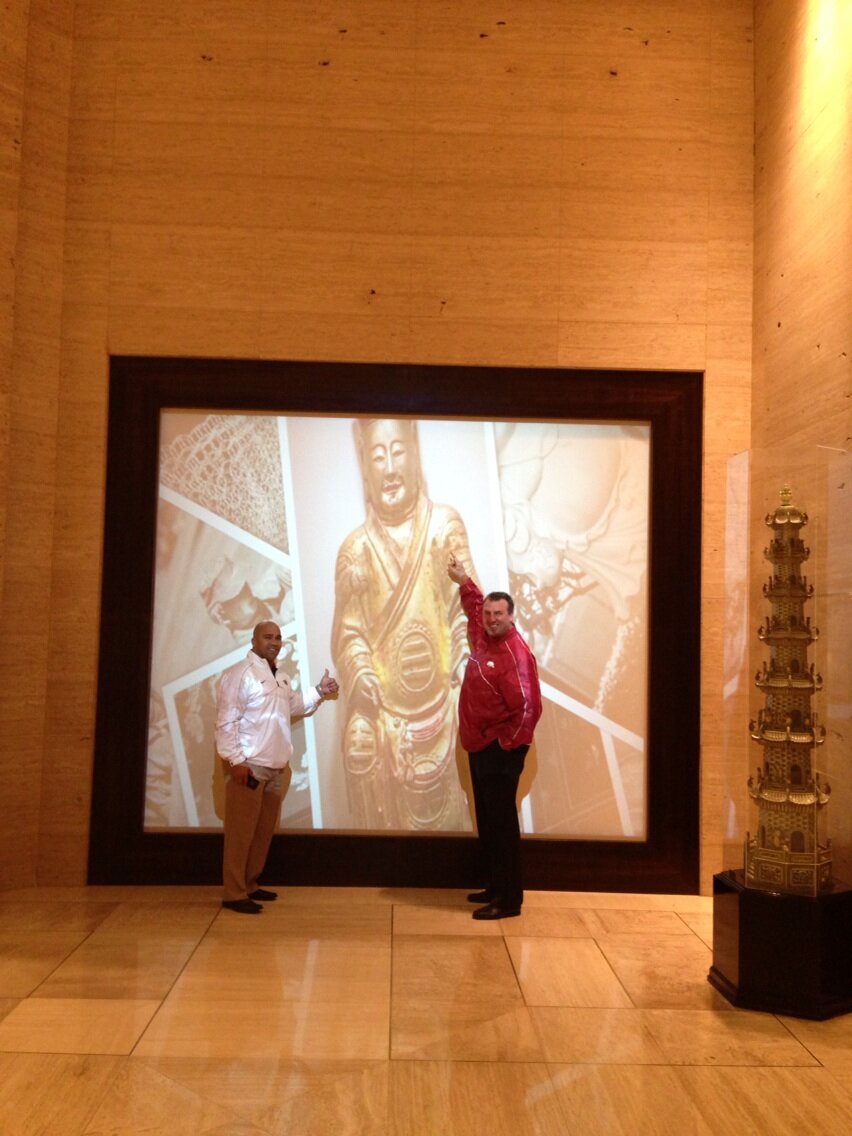 All of the excitement, anxiety, and high hopes associated with Collins' recruiting process will come crashing down or be relieved come 10 p.m. ET on Fox for Hurricane fans or Razorback Nation.
Tags: 2013 College Football Recruiting Updates Alex Collins Arkansas Razorbacks Florida Gators Florida State Seminoles Football Miami Hurricanes Texas Longhorns Wisconsin Badgers